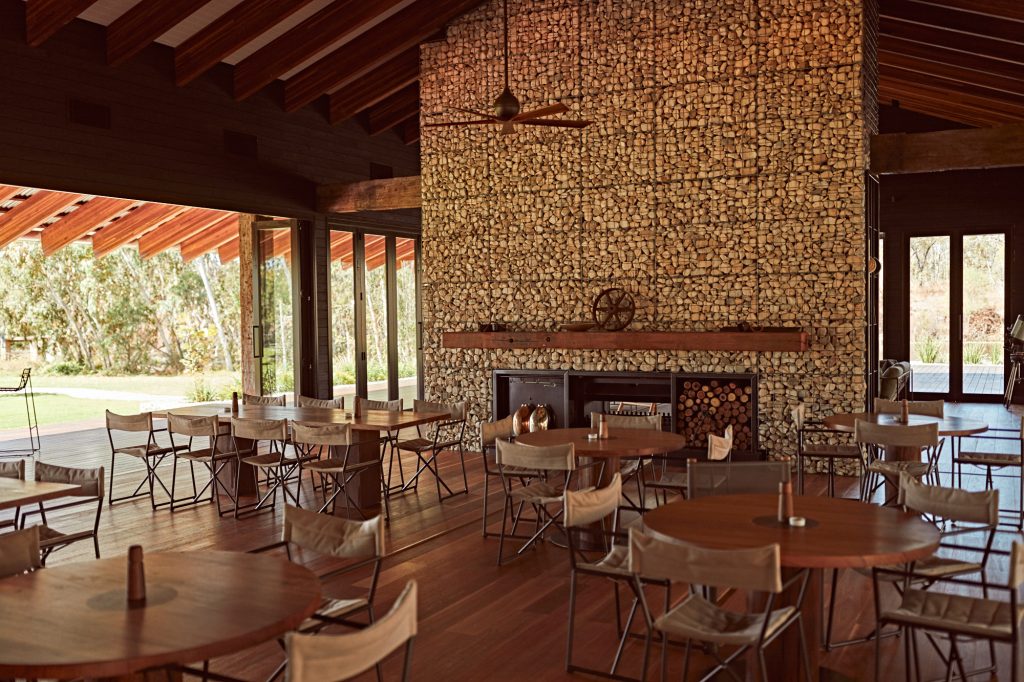 dubois: 160km inland from Cairns on a 28,000-hectare working cattle station Mount Mulligan Lodge it has been built around an existing weir; a pavilion and eight luxury bungalows at the base of a spectacular escarpment of Mount Mulligan.
the architectural response needed to harmoniously respond to the unique particulars of this expansive property and its natural environment. It was important for the design to be uniquely Australian and authentic to the rugged outback and the great outdoors.
pavilion: the contemporary yet rustic main pavilion contains a comfortable lounging area, bar and a restaurant overlooking the sleek infinity pool.
guests Bungalows: they are positioned to capture the majestic views of Mount Mulligan as it meets the waters edges of the barramundi-filled weir. We used spotted gum timber cladding and corrugated metal roofing as the primary material and finish. The simple pitched roof and deep verandah of each bungalow protects and shelters the tranquil interior and private outdoor balcony.
interiors: the rooms are generously proportioned with exposed spotted gum timber rafters. Deep dark green wall panelling and joinery with dusty grey coloured linen curtains that wrap the interior surfaces offering a cool and calming, almost cave like retreat from the harsh outback surrounds.
a carefully considered collection of quality furniture pieces constructed from solid timbers/linen and buttery leathers to compliment the laid back luxury aesthetic.
featured is a corrugated iron water tank, in which has been re-purposed for use as an outdoor soaking bath. Positioned on the edge of the deck oriented to capture uninterrupted views whilst privately bathing.
pyrmont timber: a large quantity of salvaged iron bark timber members sourced from the demolition of the Pyrmont Bay Wharf in Sydney was obtained at the beginning of the design process. Re-purposing these weathered, gnarly and notched members with rusted bolts and scars adds an additional layer of history and character to the pavilion building that speaks to the context and rugged rawness of this special site.
gabions: are used as retaining walls to the perimeter of the pavilion deck as well as elements in the surrounding landscape. The use of local rock sits in harmony with the colouring of the surrounding environment and pays homage to conglomerate and sandstone tabletop of Mount Mulligan. The large full height double sided fireplace and bar walls also feature the same gabion wall treatment and are subtly illuminated creating a raw dramatic interior aesthetic.
furniture: solid timber tables were custom designed for the lodge and are paired with contemporary steel and canvas folding camp chairs.
photography:
Jason Ierace